Obituary for Michael Patrick Brady
Mike Brady, a former cross country and track coach at Rider College and Princeton University whose devotion to his athletes earned him tremendous respect and lasting gratitude, passed away on November 23, 2017 at his home in Lambertville, N.J. He was 63.
Born in Brooklyn, N.Y., Mike grew up in Harrington Park, N.J., and graduated in 1972 from Bergen Catholic High School in Oradell, N.J. It was there that he developed his love for track and field, and honed his skills as a decathlete.
After high school, Mike enrolled at Rider College in Lawrence, N.J., where on March 7, 1974, a chance encounter on campus with fellow student Anita Regan changed his life forever.
They became sweethearts the moment they met. She was immediately taken by his deep voice and large personality. Mike told his father he had met the girl he was going to marry.
That statement proved prophetic. Four years after graduating from Rider in 1976, Mike and Anita were married and began a life together that was marked by mutual adoration and respect. Even after decades together, their strong affection for one another was clearly evident to those around them. One of Anita's sisters described Mike and Anita's marriage as "the model of love and support. They are kind, attentive and playful; never short."
Mike was a teacher at Hamilton High School West in Hamilton, N.J., when he was hired by Rider College in 1980 to build and oversee the cross country and track and field programs. During his 12-year tenure at Rider, Coach Brady compiled a record of 253 wins and 43 losses, winning nine East Coast Conference championships and nine New Jersey Collegiate championships. The performance of his teams earned Coach Brady a spot in the Rider Athletics Hall of Fame.
But the victories on the track are not what Coach Brady's athletes remember most about their time at Rider. Instead, they recall his determination to prepare them for success in life, and the guidance and friendship he displayed in pursuit of that endeavor.
He offered an encouraging word when appropriate, and a stern one when necessary. The meaning behind Coach Brady's messages were consistent and clear: I care about you, as an athlete and a person. I believe in you, and I want you to believe in yourself. Let's work together to make you the best that you can be.
His booming voice filled the hallways of the track dorms in the mornings, making sure athletes we were out of bed and headed to class on time. That voice stood out at meets

as sprinters awaited the starting gun, distance runners were hitting the wall, and field athletes were preparing to make a jump or take a throw. Coach Brady's three simple words - "Let's go Rider" - reminded all athletes that they were part of a team, and they were being counted on to reach inside themselves and find the determination to achieve victory.
A Rider track athlete recently posted an online tribute telling Coach Brady that "the lessons I learned from you have helped shape the man I am today."
"You proved to me that with hard work you can achieve your goals. I have brought that can-do attitude with me over the last 30 years to all aspects of my life."
Coach Brady's masterful ability to inspire his athletes continued after he joined Princeton University in 1992 as the head cross country and assistant track and field coach.
Coach Brady was instrumental in helping guide the Tigers to 17 Ivy League championships in cross country and track and field during his 12 years at the school. One of the most outstanding accomplishments during his career at Princeton was the three consecutive Triple Crown seasons beginning in 1998 when the school won Ivy League championships in cross country, indoor track and outdoor track.
As with the Rider athletes, those at Princeton who served under Coach Brady recalled that his tutelage on the track was always accompanied by support for their well-being as individuals.
One athlete thanked Coach Brady for his "uncanny ability to be our coach, our father, and our friend as the circumstances necessitated."
"(He gave us) a hand on the shoulder through tough times, an ear that was always open when we needed guidance, and a smile to remind us that life is supposed to be fun."
Coach Brady drew from his personal competitive spirit to help his teams succeed. He was the New Jersey Amateur Athletic Union state champion in the decathlon in 1978 and 1979. In 1982, two years into his coaching tenure at Rider, he won the New Jersey Athletics Congress decathlon and pentathlon championships, and remained active in subsequent years by running marathons and competing in triathlons.
He felt a tremendous obligation to ensure that his athletes graduated. His deep influence is best reflected by the large number of athletes who kept in touch with him and Anita after graduation.
They would often join Mike for a round of golf, which became his passion after coaching. Mike was a member of Jericho National Golf Club in New Hope, Pa., which lowered its flag to half-staff in honor of his passing.

In addition to his wife, Anita, Mike is survived by his father, John "Pat" Brady; sister Kathleen (Thomas Schulte); sisters-in-law Jeannette Regan (Hanspeter Tschani), Kathryn "Lynn" Deering, Barbara Regan, Mary Wilson, Margaret Regan, and Celeste Regan (Sam Smith); and 16 nieces and nephews. He was predeceased by his mother, Madeline Brady; brother Kevin Brady; sister-in-law Suzanne Regan; brothers-in-law Anthony (Tony) Deering and Ronald Feldberg; and loyal canine companions Sugar, Cleo and Dixie.
The visitation will be held Tuesday December 5th 10-12 at the Gill Chapel at Rider University, 2083 Lawrenceville Road, Lawrenceville followed by services at 12:30pm at the BLC theatre in the Luedeke Center.. The internment will be private. Funeral arrangements are by Wilson-Apple Funeral Home in Pennington, N.J. Condolences are welcome at www.wilsonapple.com and further information.
Those wishing to honor Mike's memory can do so by making a contribution to Rider University or Princeton University.
Rider University is establishing an endowed scholarship in his name. For more information, visit http://gobroncs.com/news/2017/9/5/general-giving-campaign-for- coach-brady.aspx.
To contribute to the Coach Mike Brady Memorial Fund at Princeton University, visit https://makeagift.princeton.edu/MakeAGift.aspx. Please note in the comments box that the donation is dedicated to this fund.
To send flowers or a remembrance gift to the family of Michael Patrick Brady, please visit our Tribute Store.
Previous Events
Visitation
Rider University
2083 Lawrenceville Road
Lawrenceville, NJ 08648
at the Gill Chapel
Service
Rider University
2083 Lawrenceville Road
Lawrenceville, NJ 08648
at the Bart Luedeke Center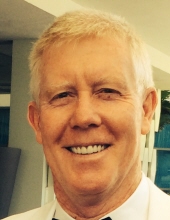 Thank you for sharing your
memory of Michael
Provide comfort by sending fresh
flowers from our local florist.
No thanks, please don't show me this again.